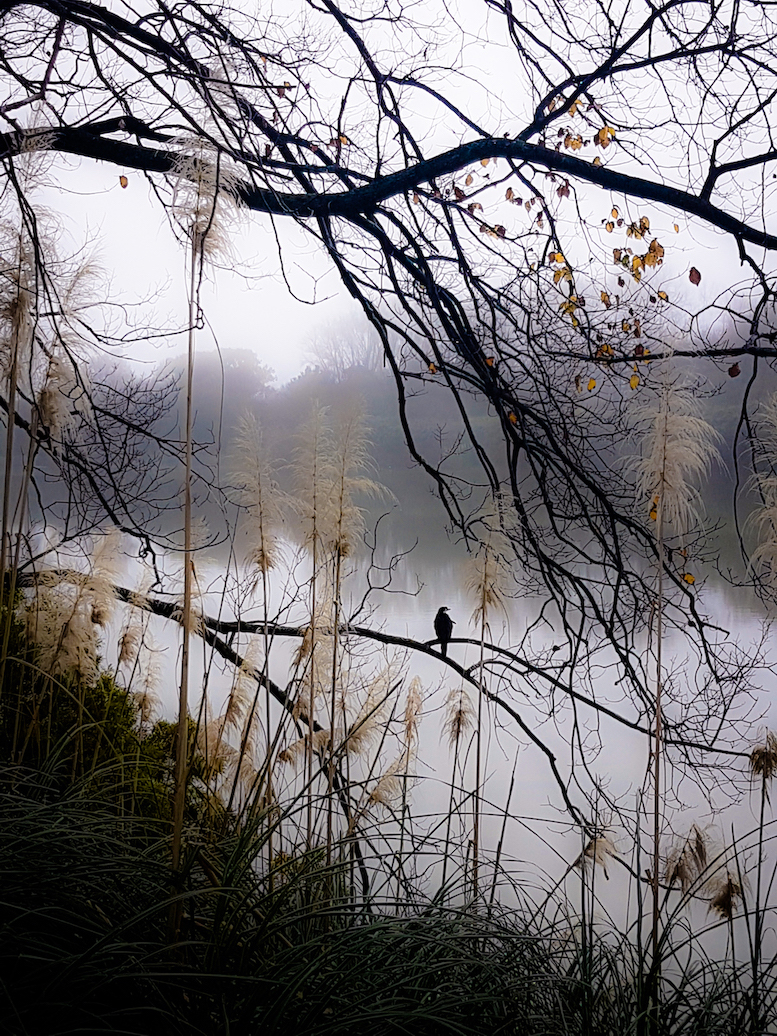 Never give up. When things get rough, can we face it whilst keeping faith with the slow flow of the river? Can we fight for what's needed whilst holding faith that truth comes out in time? And that conflict and injustice can find resolution? This river teaches on strength and surrender. Teaches on time. Teaches letting go and not clinging. Stirs up a remembrance that life moves in different phases. And that the creativity that runs through us is not our own: it's just a small part of something greater moving. Never give up. May truth and peace find a way. The slow river's flow ever opens to the bigger picture.
words written at Te Awa Tupua, the Whanganui River, Aotearoa New Zealand
Hidden Paths
In 2019 I gave my energy and attention to the Systems Change Hive collaborative work. It has been a quieter year than I've experienced in a long time as I've focused in on relational practices and tending relations with networks of collaborators. Out of the effort came a beautiful collective exhibition from the Hive crew - Hidden Paths and a live events stream featuring a Warm Data Lab, Circling group and Water Ceremony - and a Virtual Reality installation that included audio recordings with activists who I have deep admiration for (documented by Elia Habib and myself at the Hidden Paths // Rising Voices site.)
George Por, one of the great supporters of the project and elder to the group, invited me to share some thoughts on synergy and the year long experiment in co-creating towards Systems Change:
When you journey on the river you feel the relationship carrying you. An undeniably vital flow. To be on the river as she wells up with rain feels ordinary and special, conected and sovereign. Can we work together in connected flow for a group purpose?
To live real synergy in co-creation perhaps we have to surrender our die-hard attachment to our own particular way of speaking, branding, owning the change? I've found at the Systems Change Hive in Brighton that embracing an openness that really is inclusive to multiple different perspectives and welcomes diversity involves some chaos and confusion, periods of unknowing and extreme effort, and requires everyone to make difficult shifts out of ego, defence and personal attachment to "knowing what's what".
Finding that creative balance between blazing purpose and genuine receptivity is a life-long journey. There is always something inherently partial in operating in the world with a limited perspective, we are ever opening up to the bigger picture.
What helps me here is a sense that true synergy is run by the earth - synergy is run by the earth - not by my efforts to "make change" or control outcomes. Our role in a creative group of people may have more about alligning with a deeper creative force that comes through us all, than any notion of individual genius. Holding faith in the creative flows of life and the people I work with on a foundational level makes it more possible to work inside and across differences of perspectives and patterns of communication and terminology.
Conflicts always lead to learning and one thing I learn more and more is to trust that each group holds the wisdom that is needed and also that groups can include more people without breaking. And I celebrate Nora Bateson's Warm Data training for really bringing this home to me.
My emphasis in the Systems Change Hive became about making living creative relational space - whether it was through encouraging the artists to share dreams, facilitating the Warm Data labs with Jackie Thoms, Sam Hewitt's Circling sessions, recording and working with the activists on the Virtual Reality Museum or creating Water Ceremony with Molly Astley and Annie Elliot - they all emphasised that co-creation happens together.
It is not what I expected to be the outcome of assimilating a lot of research around Systems Change from the STEPS presentations, and yet this was the piece of the collective creation that asked for attention. To find ways to embody the shifts we imagine we need to creatively learn afresh how to tend the relational space between things. It may be true that "thinking" the shift from competition to synergy is relatively simple, and yet living it out in the world and each day meeting the challenges of working across differences demands a kind of steadfast determination, patience and honouring and continuous practice at relational skills.
This year's group work has been all about diving into these relational practices and my ways onwards has been remarkably enriched by becoming a Warm Data Lab host with Nora Bateson's Warm Data work and training in Going Horizontal practices.
This quieter attention has also been deeply nourished by a journey to Aotearoa New Zealand to exhibit during the heartening celebrations of Puanga at Parihaka in an exhibition curated by Maata Wharehoka and Ian Clothier of Intercreate.
Following the exhibition I spent some days in the peace of the Whanganui river - Te Awa Tupua - on the North Island. The life of this particular river is unique for it has been granted a clear legal status. The local Māori tribe of Whanganui fought to have their river recognised as an ancestor for 140 years. Two years ago New Zealand awarded Te Awa Tupua all the rights, duties and liabilities of a legal person. There's much more to come in the ongoing fight for recognition and reparation and yet the 2017 victory is truly special on a planet where law pretends not to know of the life of nature. Te Awa Tupua is now legally recognised as "an indivisible and living whole from the mountains to the sea, incorporating the Whanganui River and all of its physical and metaphysical elements." It is rare for the law of the land to remember the life of water or know the river systems as an indivisible whole.
On a boat going down the river, I found myself thinking: "The river's alive! Pay special attention!" But - of course - all rivers are alive: each river has a song. The iwi of Whanganui never forgot their integral entanglement with their ancestral river. They fought for this remembrance in a culture of denial and forgetfulness. It is something that communities in the UK talk about growing relationship to through this year of climate protest.
How can creatives work together whilst support this embodied knowledge of entanglement, our interbeing as one of the Hive artists Molly Astley says from the many months she has practiced at Plum Village. Synergetic co-creative work has phases, or tides perhaps, and seems to ever flow between united vision and (sometimes extreme) divergence. Whether divergences are reconcilable or not depends on the individuals involved and the practices and dedication they have for keeping in connection and tending healthy working relationships towards expandig understanding. Creative synergy itself can not work without disagreements, mistakes and forgiveness. So perhaps, inevitably, synergy is always a work in process?
At the opening session of the Systems Change Hive in January we committed to embracing the mistakes. This is a habit that is fundamentally healthy in creative work, an unhitching from perfectionism to accepting that we often get it wrong and creativity grows just as much through the painful learnings of dischordance, as it does through energised unity. It is a healthy task to work with others and find the muscle to stick with the truth that creative work is always going to be a balancing of successes and failures, and that as Carl Jung terms it, are creative task as limited humans is to "balance the opposites" and keep awake in the experience. It's healthy and difficult to dispense with ideals, for it requires some deep unlearning of habits of expectation, yet being with the truth that collaborating is full of texture relaxes the tightness of anxiety and opens up the radical imagination. My work at the Systems Change Hive focused on growing creative practices to keep on turning up with renewed energy within the everyday frustrations of life and the ordinary clashes of perspectives. This was the task that I could feel in the protests in London: there was a creative work of maturation occuring across enormous numbers of people through extreme discomfort and people were submitting to this rough collective process to create something larger than the individual. As the year unfolded it became more and more apparent how radical imagination and resilience could fed and resourced by individual contemplative practice, embodiment and ceremony with the land, radical listening and heart-based compassion. And that creative practice has a role in bringing forth fresh rituals and ways of working as groups that support our enlivened capacity to balance the opposites and change ourselves as we work to change our systems.
Please see Oneiroglyph for collective dream recording throughout the Hive and the Climate Protests and Events for the meetings and gallery shows.